FEATURES

Phone, fax, e-main and internet


Global coverage (with exception for the poles)

ISDN data 64 kbps or 128 kbps

Global voice

9.6 kbps Group 3 Fax capabilities
Rapid configuration via handset or PC
NMEA interface
External ringer
Benefiting from Thrane & Thrane's unrivalled experience, knowledge and heritage in maritime communications, the SAILOR Fleet77 offers truly proven and reliable voice and data communication. This satellite communication equipment provides seamless coverage on most of the globe, giving you access to all Fleet77 services.

Always dependable

The SAILOR Fleet77 is the always dependable equipment especially suited for daily operations on merchant vessels. With its wellproven technology the SAILOR Fleet77 will integrate the vessel's communications systems with the company's network on land – creating an office at sea.

Cost-efficient operations

As well as crew and ship management being able to use the internet and e-mail, onshore management will have online access to parameters on the ship, allowing them to enhance a cost-efficient operation. Information such as cargo data, fuel status, position, speed, maintenance schedules, engines parametric etc. is paramount for cost-efficient operations.

Proven reliable data throughput

With the SAILOR Fleet77 terminal you get data transfer speeds up to 128 kbps via ISDN. You may choose either the MPDS (Mobile Packet Data Service) protocol, where you are charged for the amount of data you send/receive, or ISDN, where charges are per minute. The system is accompanied by user-friendly software, which enables simple configuration from a standard PC.

Compact and easy to maintain

The tracking antenna is 88 cm high, has a diameter of just 84 cm and weighs only 27 kg. It is line replaceable and features a bottom hatch for easy service and maintenance access. The transceiver itself is a sturdy construction made for maritime use.

Important features
• Phone, fax, e-mail and Internet

• Global coverage, 78° north to 78° south

• ISDN DATA 64 kbps or 128 kbps

• Global voice

• 9.6 kbps Group 3 Fax capabilities

• Rapid configuration via handset or PC

• NMEA interface

• External ringer

• Configuration module
World Class Service
When buying a Thrane & Thrane product you buy not only state-ofthe-art technology, but also peace of mind. With more than 40 strategically located service centers, the Thrane & Thrane certified On Board Service Center network will ensure world class service. No matter where or how you bought the equipment, you will receive immediate, high-quality service all over the world.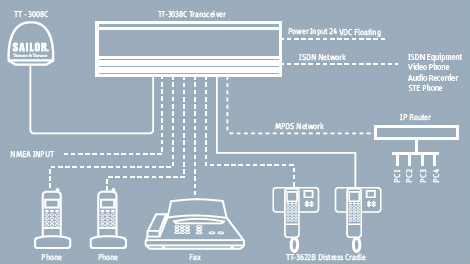 Fast and Reliable Inmarsat Service
The SAILOR Fleet77 operates through the established network of Inmarsat and GPS satellites. It offers fast and reliable transfer of information 24 hours a day. The SAILOR Fleet77 transceiver provides a constant two-way link to Inmarsat satellites and all Inmarsat Fleet global communications.